The nation's leading occupational safety management event will provide attendees with expert strategies to master the most pressing workplace safety issues of 2019.
AUSTIN, TEXAS | JUNE 13, 2018—BLR®, the leading provider of employment, safety, and environmental compliance information and technology, is pleased to announce that the annual EHS Daily Advisor Safety Summit will return April 8–10 in Austin, TX.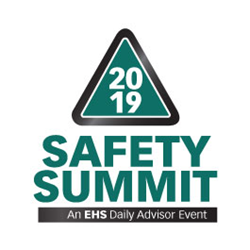 Led by the nation's leading safety compliance experts, Safety Summit 2019 will provide a comprehensive overview of the most pressing safety compliance pitfalls facing businesses today, as well as practical and powerful action plans to improve workplace safety, protect workers, and reduce costly OSHA fines.
The event offers ample opportunity for networking and idea sharing between attendees and experts alike and features bonus preconference workshops on the latest OSHA developments.
Attendees will learn practical, proven strategies for:
Addressing the latest OSHA enforcement initiatives in 2019 and ensuring your practices are compliant
Implementing an effective and legal drug and alcohol testing policy at your workplace
Improving your lockout/tagout process to reduce the risk of electrical hazards and prevent workplace injury
Adopting new technologies to drive productivity among a busy and/or disparate workforce
"Understanding the latest OSHA compliance requirements is critical for the success of your organization," says Amanda Czepiel, JD, senior managing editor of EHS for BLR. "Safety compliance doesn't just help your organization avoid costly fines, but protects your workforce too – and at the end of the day, that's the most important aspect for a successful business."
The event will take place at the Sheraton Austin at the Capitol in the heart of Austin. For more information, please visit SafetySummit.blr.com.
About Simplify Compliance
Simplify Compliance helps its customers learn, comply, and succeed by providing mission-critical regulatory and business information, analysis, and tools. Serving a range of industries—including financial services, health care, human capital management, and telecommunications—Simplify Compliance provides timesaving products and solutions that help U.S.-based businesses and their employees monitor compliance, optimize financial performance, and create and implement best practices.
Simplify Compliance operates the Argosy Group, BLR, CCMI, and H3.Group business units.
About BLR
BLR helps U.S. businesses simplify compliance with state and federal legal requirements. In-house experts and an exclusive attorney network provide comprehensive, reliable state-specific information for businesses in all 50 states. Award-winning products and solutions—including training programs, events, Web portals, reports, and subscription services—give businesses of all sizes and industries the best tools available at affordable prices. For more information on its offerings, visit http://www.BLR.com.
Contact
Kimberly St. Lawrence
Marketing Director | Events
BLR—Business & Legal Resources
35 Village Road
Middleton, MA 01949
860-510-0100, Ext. 3874
kstlawrence@blr.com
http://www.BLR.com