Bluepoint, an innovator and facilitator of advanced leadership development concepts and coaching programs, and Wallenius Wilhelmsen, a global leader in logistics and shipping solutions facilitation, won the coveted Brandon Hall Group Bronze Award for Excellence in the "Best Advance in Leadership Development" category.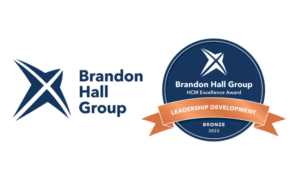 Bluepoint and Wallenius Wilhelmsen collaborated to create a custom leadership development program (LDP) for top performers. The custom program included a 360 assessment, a series of in-person and virtual workshops, micro-eLearning programs, learning application trios, and individual coaching sessions to further support learning.
"We're very proud and happy that our Leadership Development Program with Bluepoint has received this award. The 'LDP', as we call it, has made a marked impact in our development of leaders, giving them the opportunity to explore and grow their skills, build lasting relationships, and learn through experience." Helen Guler, Senior Manager of Organizational Development at Wallenius Wilhelmsen.
Julie Henry, Director of Client Services at Bluepoint, added, "We are proud of our collaboration with Wallenius Wilhelmsen and the positive impact it has had on their leaders and the organization as a whole. At Bluepoint, we are passionate about leadership development and how our programs can be used to build stronger organizations, communities, and families."
Brandon Hall Group, a leader in providing data, research, insights, and certifications to Learning, Talent and HR executives and organizations, is recognized for its HCM Excellence Awards® in the Human Capital Management (HCM) industry. Entries were evaluated by a panel of veteran, independent senior industry experts, Brandon Hall Group analysts, and executives based on:
Alignment to their business need and environment;
Program design, functionality, and delivery;
Adoption, integration, user experience, innovation, and creativity;
And, overall effectiveness, impact, and measurable benefits.
###
About Bluepoint
Bluepoint Leadership Development, a division of Simplify Compliance LLC, serves businesses of all shapes and sizes, at all levels, through assessments, blended and rapid learning, and coaching, available in live or virtual instructor-led workshops with a full range of support tools and resources. Its mission is to assist people at all organizational levels to significantly enhance their leadership effectiveness through the study of advanced leadership concepts, direct feedback, intense learning experiences, accountability-based coaching, and personal reflection. Visit https://www.bluepointleadership.com.