We had a great event in the Windy City for our Healthcare Facilities Management Forum, Education & Healthcare Security Forum, and Education Facilities Management Forum. The co-located events took place April 23rd-24th, 2018 at the Chicago Marriott O'Hare, in Chicago, IL.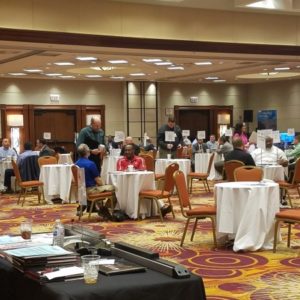 Facility and security executives from leading hospitals and educational institutions joined us for a day and a half of one-on-one meetings, learning-based workshops, and business networking.
A sample of attending hospitals and institutions included:
Loyola University Chicago
Whitestone Healthcare
Nicklaus Children's Hospital
Children's Hospital & Medical Center
Grand Valley State University
Jackson Park Hospital
East Aurora School District 131
Harry S Truman College
Faith Regional Health Services
Purdue University Fort Wayne
University of Findlay
New London Public Schools
Malcolm X College
Overall, the feedback from our attendees was overwhelmingly positive on the effectiveness of the face-to-face appointments, with 9 out of 10 attendees agreeing that this type of setup was a much more effective way to source new vendors.
"This event was a great way to quickly meet a variety of vendors and network with colleagues."
"Very helpful and the 1:1 contact with the vendors was great to be able to ask questions."
"It was a new and interesting way to meet and speak with potential vendors. I also enjoyed meeting with and speaking to other facility directors."
"This was my first time attending this event, and already look forward to the next. I thoroughly appreciated having the opportunity to meet with vendors one on one and have ample time to discuss my district's needs, and how they could help me. The workshops were also beneficial, because they did not just focus on selling a product, but provided great information as well."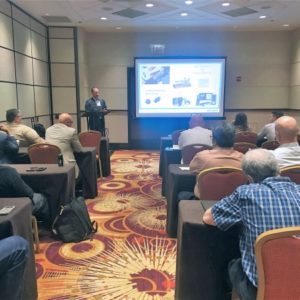 The learning-based workshops in Chicago covered a range of important trends in FM and Security. Brad Hunter of SchoolDude covered 5 education operations management trends to know for 2018, while Kevin Hendershot covered construction and security trends that will affect us in the coming year and beyond.
Rob Donlon of Scranton Products kept us up-to-date on the latest sustainable materials available for restrooms, locker rooms and other applications. We also covered dashboard interfaces, repair and renovation contracts, exit devices and alarms, and a host of other critical topics – a total of 10 workshop sessions in all.
We also found time to network during Casino Night, a tradition that both solution providers and delegate attendees (as well as the Forum Staff!) always enjoy. We closed the event on Tuesday excited to start planning for our next upcoming events in Plano, TX and City of Industry, CA.
Interested in sponsoring an event? Contact:
Cherissa Irvin – Event Manager
(941) 925-7585 x8162  |  cherissa.irvin@forumevents.com
Rob Muise – Event Manager
(941) 925-7585 x8164  |  rob.muise@forumevents.com